How-To
How To Delete an Instagram Account Permanently or Deactivate It Temporarily
Expert Guidelines for Safely Removing Your Instagram Account: Follow these Proven Methods to Ensure Your Data is Securely Deleted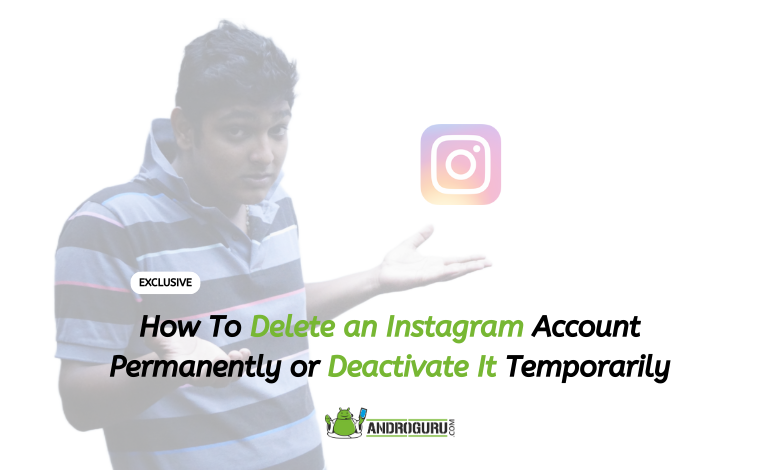 Instagram, being one of the most widely used social media apps, serves various purposes such as entertainment, business promotion, and talent showcasing. However, many users often find themselves spending excessive time scrolling through reels, which can be both engaging and distracting.
If you're here because you're struggling to focus on your work and considering deleting your Instagram account, you have options to do so permanently or temporarily.
For a temporary break, you can choose to deactivate your account. This option allows you to retain all your data while making it invisible to your friends and followers.
If you've made the decision to delete your account permanently, rest assured that your data will be preserved for a period of 30 days.
During this time, your photos, videos, reels, and chat history will still be available. However, once the 30-day period elapses, all your data will be permanently and irreversibly deleted.
Please note that we've updated this article to include the latest methods provided by Instagram, ensuring that you can follow these steps without encountering any issues.
Safely Deleting Your Instagram Account: Temporary Deactivation Method
Two Deletion Options: When it comes to deleting your Instagram account, you have two choices: temporary deactivation and permanent deletion. In this article, we will focus on the steps to temporarily deactivate your account on an Android smartphone.

Accessing the Official Website: To begin the process, open your preferred browser and navigate to the official Instagram website.
Logging In: Once you reach the website, log in using the Instagram account that you wish to temporarily deactivate.

Editing Your Profile: After logging in, click on the "Profile" option, followed by "Edit profile."

Locating the Deactivation Option: Scroll down the page, and you will find the "Temporarily deactivate my account" option. Click on it to proceed.

Selecting a Reason: Choose the reason for deactivating your account from the available options. Additionally, you can set the duration for automatic reactivation if desired.
Entering Your Password: To ensure account security, enter your Instagram account password.

Temporarily Deactivating: Finally, click on the "Temporarily Deactivate Account" button to complete the process.
By following these steps, you can temporarily deactivate your Instagram account, providing you with a break from the platform while preserving your data.
Permanently Deleting Your Instagram Account: Step-by-Step Guide
Understand the Consequences: Before proceeding with permanently deleting your Instagram account, it's important to note that this action cannot be undone. Ensure that you have saved any important data or information from your account beforehand.
Accessing Account Settings: Open your preferred web browser and log in to your Instagram account.

Navigating to Help Center: Scroll down on the main page and click on the "Help" option, followed by "Help Center."

Accessing Account Management: Look for the "Hamburger Icon" located in the top right corner and click on it. From the dropdown menu, select the "Manage your account" option.

Initiating Account Deletion: On the account management page, click on "Delete your account."
Confirming Deletion: Scroll down and click on the "Delete Your Account" option.

Selecting a Reason: Choose one of the provided reasons for deleting your account.

Authenticating Your Account: Enter your Instagram account password to verify your identity.

Finalizing the Deletion: Click on the "Delete" button to permanently delete your Instagram account.
By following these steps, you can successfully delete your Instagram account permanently. Remember to exercise caution as this action is irreversible.
Please note that you may skip the first four steps if you are already logged into your Instagram account and navigate directly to the main settings page.
Should you decide to return to Instagram, you have a window of 30 days to reactivate your account. However, after this period, your account and all associated data will be permanently deleted.
We have diligently updated this article to reflect the latest methods provided by Instagram. The two methods outlined above are not only highly effective but have also been verified by countless users. Instagram itself offers comprehensive instructions for account deletion, which we have carefully summarized here.
By following our detailed steps, you can rest assured that any potential obstacles will be minimized.
If, however, you encounter any difficulties during the process, please feel free to share them in the comments section below. Our team is committed to promptly providing you with the necessary solutions to delete an Instagram account.