News
Vasant Joshi College Hosts Successful Mega Campus Placement Drive in Collaboration with CII-Model Career Centre
80+ students participate as top companies offer promising job opportunities.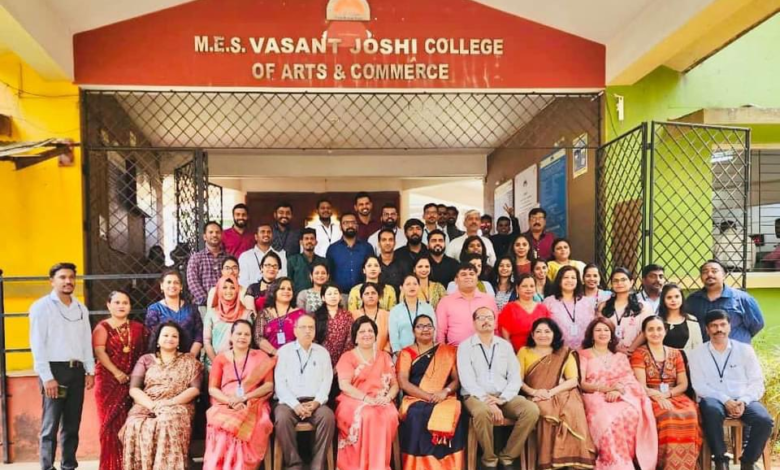 Vasant Joshi College of Arts and Commerce, located in Zuarinagar, recently organized a highly successful mega campus placement drive in collaboration with the CII-Model Career Centre. The drive aimed to provide job opportunities for the 2023 batch students from all streams, as well as past graduates of the college.
A total of twelve esteemed companies participated in the drive, sending their HR executives to conduct interviews and select suitable candidates for various job vacancies.
Before the commencement of the drive, a formal function was held at the college to welcome the representatives from CII-MCC, including Sheikh Mohammad Azaan, HR & BD, Mishkowa Mendes, senior career counselor, Shruti Mandrekar, HR executive, and Gautam Mahale, HR executive.
Dr. Manasvi M. Kamat, the Principal of Vasant Joshi College, expressed her gratitude to CII and the Model Career Centre personnel for their valuable assistance in organizing the drive. She emphasized the significance of such mega placement drives in bridging the gap between industries and academia, benefiting students in their job search.
During the event, Assistant Prof. Sanjana Halamkar, a member of the Placement Cell, introduced the representatives from CII-MCC and Sheikh Mohammad Azaan provided an overview of the drive's objectives. He encouraged students to actively participate and make the drive a resounding success. He also briefed them on the modus operandi of the drive.
The function concluded with a vote of thanks delivered by Assistant Prof. Swati A. Shigaonker, the chairperson of the Placement Cell, who expressed appreciation to all participants and highlighted the importance of feedback from company HR executives to improve future drive organization.
A total of 81 students participated in the placement drive, attending interviews conducted by the HR executives of the participating companies. The shortlisted candidates will proceed to the final round of interviews with the respective companies.
The companies that took part in the Mega Placement Drive include Sai Point Maruti Suzuki Cars, Caculo Group, Reliance Nippon Life, Wellness Forever, Estellar Academy, Goa Miles, Haztech Innovation, IMS CAD CENTRE, The Pier Seaside Bistro, androguru.com, Muthoot Finance, Make It Happen, and Talak Constructions. These companies offer diverse opportunities across various industries.
The placement drive at Vasant Joshi College showcased the dedication and commitment of both the college and the participating companies in nurturing talent and providing valuable employment prospects for students. It serves as a significant milestone in the college's efforts to empower students and forge strong connections with the industry.