News
AI-powered robots enhance lifesaving efforts on Goa's beaches
AI-powered robots and monitoring systems enhance beach safety in Goa by providing surveillance, crowd management, and lifeguard assistance.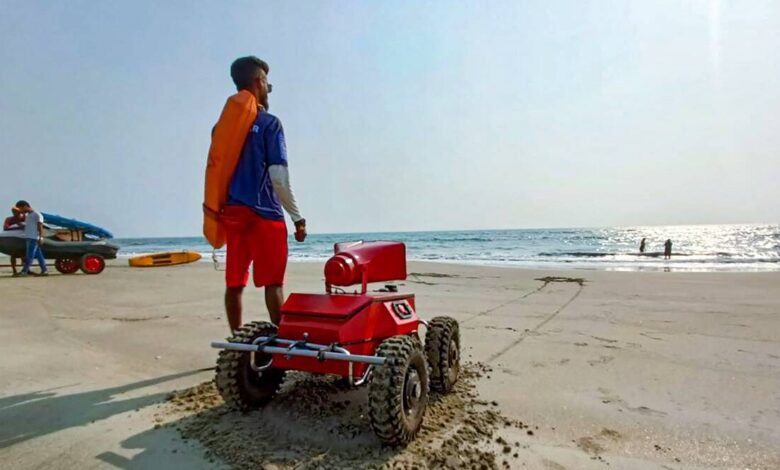 The picturesque state of Goa in India, renowned for its stunning beaches and vibrant nightlife, is embracing innovative technology to ensure the safety of its tourists. Introducing Aurus, an AI-based self-driving robot, and Triton, an AI-powered monitoring system, which are set to revolutionize lifesaving operations along the state's coastline.
The initiative, spearheaded by Drishti Marine, a lifeguard services agency appointed by the state, aims to address the growing number of incidents reported on Goan beaches, particularly with the influx of domestic and international tourists following the relaxation of Covid-19 restrictions.
Over the past two years, more than 1,000 rescue incidents have been recorded across the coastal belt, highlighting the need for improved surveillance and safety measures. This is where Aurus steps in with its autonomous capabilities. The robot is designed to assist lifeguards by patrolling non-swim zones and alerting tourists during high tide, thereby preventing potential mishaps.
Complementing Aurus is Triton, an AI-based monitoring system that works in tandem with the robot. Like Aurus, Triton focuses on observing non-swim zones and plays a vital role in notifying both tourists and lifeguards about potential dangers or accidents.
The deployment of Aurus and Triton is expected to significantly enhance surveillance and crowd management on Goa's beaches. Currently, Aurus is stationed at Miramar beach in North Goa, while Triton can be found at various locations including Baina, Velsao, Benaulim, Galgibag in South Goa, and Morjim in North Goa. This strategic placement ensures comprehensive coverage and rapid response to emergency situations.
In the coming year, Drishti Marine plans to deploy approximately 100 Triton units and 10 Aurus robots across the beaches of Goa. This progressive approach to leveraging AI technology reflects the state's commitment to ensuring the safety and well-being of its visitors.
As the tourism industry in Goa continues to thrive, the introduction of AI-powered robots brings a new level of efficiency and effectiveness to lifesaving efforts. With Aurus and Triton on the frontline, beachgoers can enjoy their time in the sun with greater peace of mind, knowing that these advanced systems are working tirelessly to prevent accidents and save lives.
Goa's initiative serves as a shining example of how emerging technologies can be harnessed to create safer environments and improve overall visitor experiences. As the deployment expands and the effectiveness of these AI-powered solutions becomes evident, it is likely that other beach destinations worldwide will take inspiration from Goa's innovative approach to lifeguarding, ensuring the well-being of beach enthusiasts everywhere.