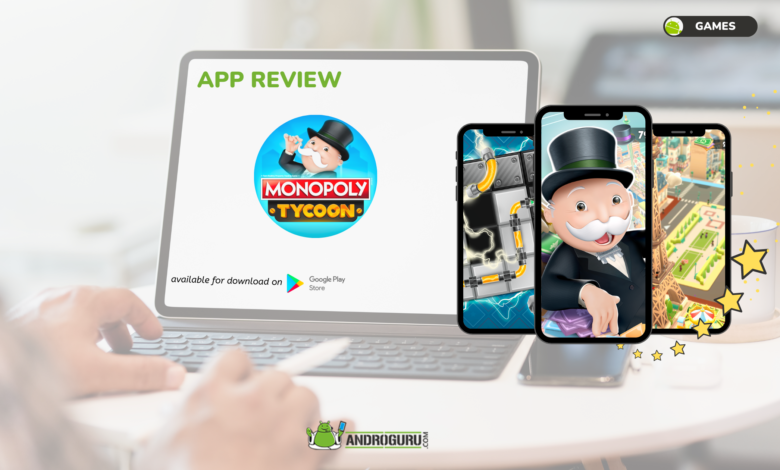 App Review
Design - 5.5
Speed - 5.6
Features - 7.1
Look & Feel - 6
Value for Download/Money - 7.7
6.4
Average
With its immersive gameplay, multiplayer mode, and strategic challenges, it offers a fun and addictive experience for fans of business simulation and strategy games.
On January 20, 2021, Nvizzio Creations and Hasbro released Monopoly Tycoon on Android, reintroducing gamers to the timeless board game.
Players can construct their empires from Atlantic City to Paris in this brand-new Monopoly iteration, which offers a unique Monopoly experience.
The same world that we all know and love is featured in Monopoly Tycoon with brilliant color bursts. Deep management tools allow players to invest in real estate and amass wealth by collecting rent in the full-3D game.
They can diversify their portfolio by utilizing user-friendly simulation and builder game components, as well as engaging in routine activities and quests with a narrative focus.
In addition, the free-to-play game offers city-specific buildings to construct as well as unlockable cards that may be gathered and improved.
Players can also compete fiercely in the Auction House for the best properties and respond to the needs of the hotels to ensure that rents are maximized. Of course, the Community Chest and Chance cards are essential to any Monopoly game, as is the thrill of passing Go every day.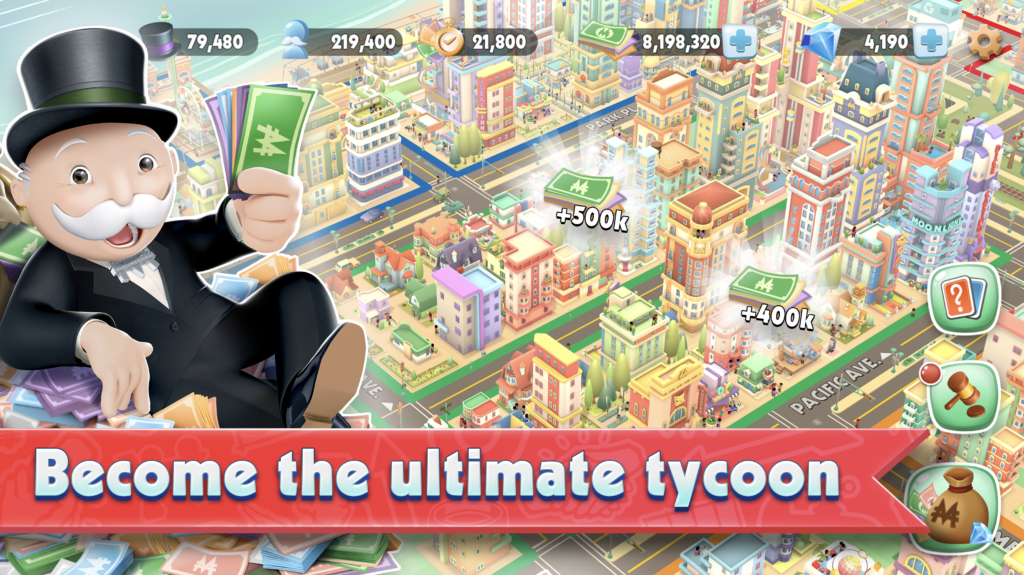 Since we started playing the game, we actually felt that it would be boring considering the fact that Monopoly as we generally play it on a board, but after 6 months – we are truly having a different opinion.
Monopoly Tycoon on Android is a one-player game where you have to play it with 3 more players that are actually computer-controlled, just like other one-player games. As you can see in the above app screen, the main aim/goal is to become the ultimate tycoon owning a majority of properties, collecting passive income through rent and utilities, and increasing the population.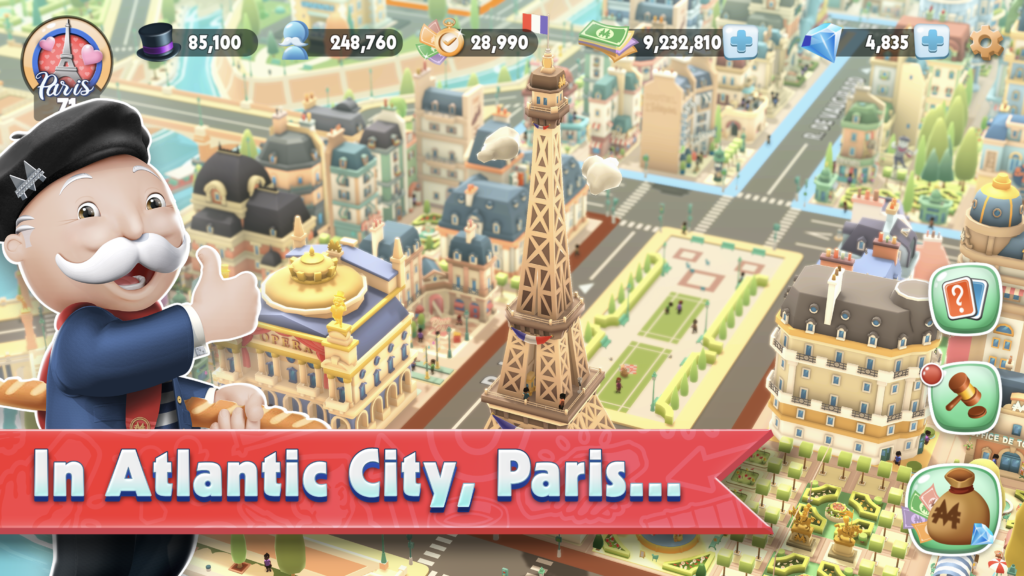 The game starts off with you being deployed as a game-player into Atlantic City, and once you progress through different levels, you get into Paris, and reach London once you get to Level 20 in Paris.
As you can see in the app screen above, the current city is Paris which means that we passed the minimum level requirements in Atlantic City. We will explain here the different icons displayed on top of the app screen here:
Monopoly Hat Icon symbolizes Wealth : The total value of your properties and buildings. You have to increase wealth by:

(1) acquiring and upgrading property cards.
(2) acquiring and upgrading building cards.
People Icon symbolizes Population : The total number of citizens living in your city. You have to increase the population of each of the cities by:
(1) adding houses and hotels to increase the residential capacity.
(2) supply their needs with businesses such as cake shops, tailors, music shops, and cafés.
Clock with the Cards symbolizes the Rent Per Hour : This is the Monopoly Money general by real estate with an hour. You have to increase the rent generated every hour by:
(1) building more houses and hotels across every city.
(2) collecting the rent periodically on every property owned and operated in each city.
Money with the + Icon : This is the operating cash capital or Monopoly Money that you have and also the standard currency. You need to increase the money you have by:
(1) investing money to acquire property cards at the Auction House.
(2) investing money to upgrade building and property cards.
(3) earn money from missions, and rent from property owned.
You can also earn free Monopoly Money from time to time by watching 15-30 seconds ads from advertisers.
Diamond with the + Icon : These diamonds can be used as a secondary form of currency whenever required. It is not directly associated with becoming the Monopoly Master. It helps you from time to time at the Auction House to Buy Out building cards, increase rent on a property, or even to trade the diamonds in for operating Monopoly Money.
Settings Icon : Using this feature, you can adjust/change various setting options such as Music, Sound FX, Notifications, and Languages (English, French, Deutsch, Expañol, Italiano, Português).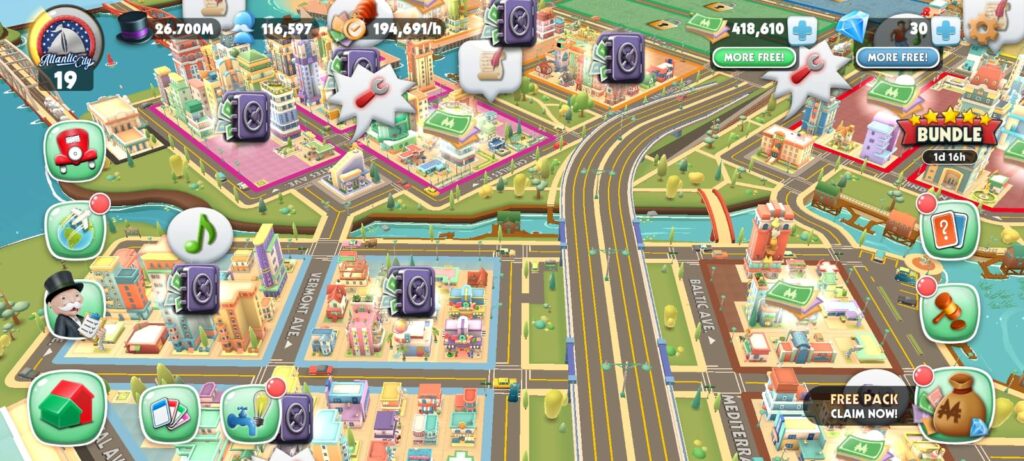 Since we have explained all the details with regards to the icons on the top of the app screen, we are going to share more details about the left-hand and right-hand side icons below:
LHS
Red Truck symbolizes Free Parking : The Free Parking feature can be used when it is available like a casino machine to get free upgrades for property in order to progress faster in the game.
Airplane with Globe symbolizes Traveling to Different Cities : This is the place where you can move from Atlantic City to London, Paris to Atlantic City, back and forth with an overview about each city such as population, wealth, and properties owned.
Monopoly Man symbolizes Missions : Missions appear from time to time as you go by every level, in each city and once you complete missions, you get cash rewards, as well as card upgrades.
Green House & Red Hotel symbolizes Upgrades : This is the place where you can see an overview of the properties, and utilities owned. You can also build, as well as power-up upgrades from here.
Stack of 3 Cards symbolizes the Properties Owned : Once you tap on this icon, you can view complete details about each property owned with details about the rent/hour, population, and income stream.
Water Tap and Bulb : This is a pretty straightforward section where you can view the details about the utilities (Water, and Electricity) owned across each city.
RHS
Bundle Offer symbolizes Timely Bundle Offers : The Bundle Offers section is where you can buy property, upgrades, cards, and even Monopoly Money by paying real cash using the Google Play Store and making a payment.
Question Mark & Blue Card symbolizes Chances and Community Chest : In case you have played the board game in reality, this is where the pack of two different sets of cards is available such as the Chances Cards, and the Community Chest Cards.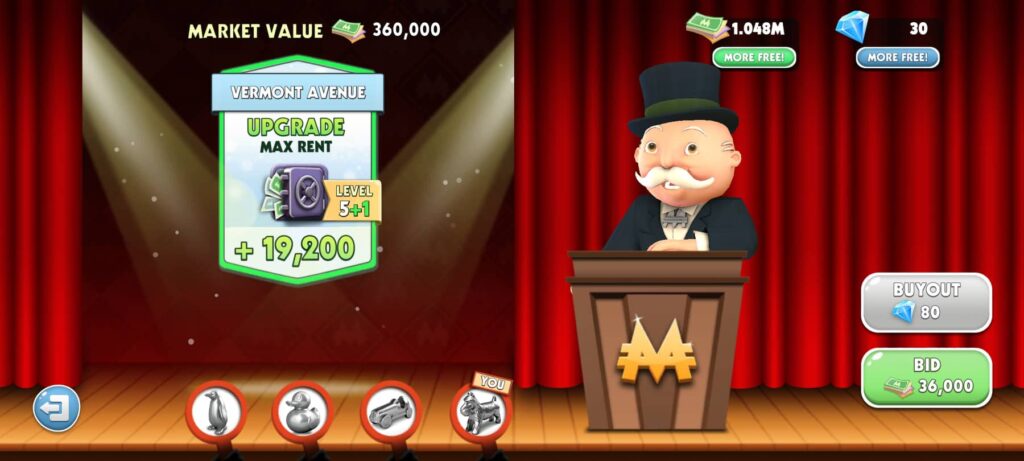 Court Gavel symbolizes the Auction House : The Auction House is a place, just like an auction room where you can use Monopoly Money to bid on properties, increase the rent on them, or even buy out properties using diamonds, if required. Since it is a one-player versus the computer (3 players), you have to be real quick when you are bidding.
Brown Money Bag symbolizes Free Packs : We are sure you would have figured out as per the name of the icon – "Free Packs", it is where you get free packs of cards or upgrades from time to time that you should watch out for.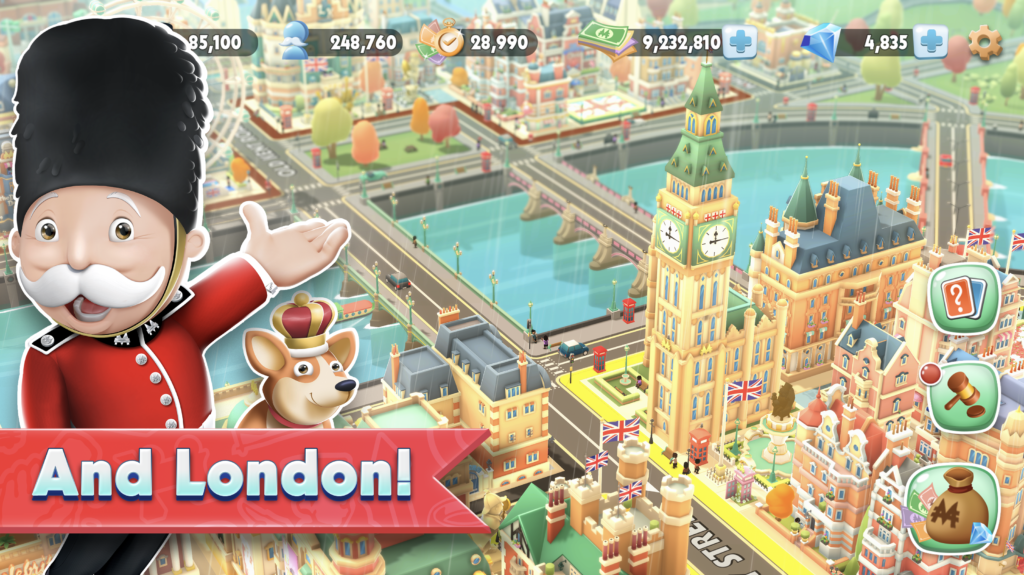 By far, as you progress with the game and move from Atlantic City to Paris – it really gets more fun as you would have already reached a stable cash flow of 300,000+ rent/hour. This game is really good to learn the benefits of passive income and how to manage money wisely. Once you reach London, you are going to seriously enjoy Monopoly Tycoon.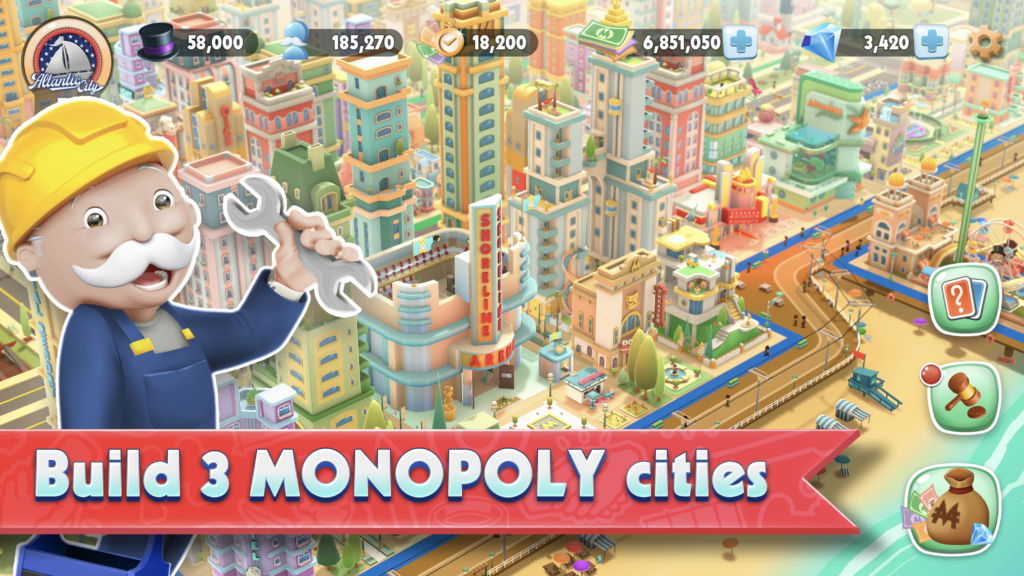 One of the best part when it comes to building, and running three different cities is that you can use the same Monopoly Money across all 3 cities and not having separate money for each city. The Wealth and Rent/Hour for each city is different as well as the population and properties owned.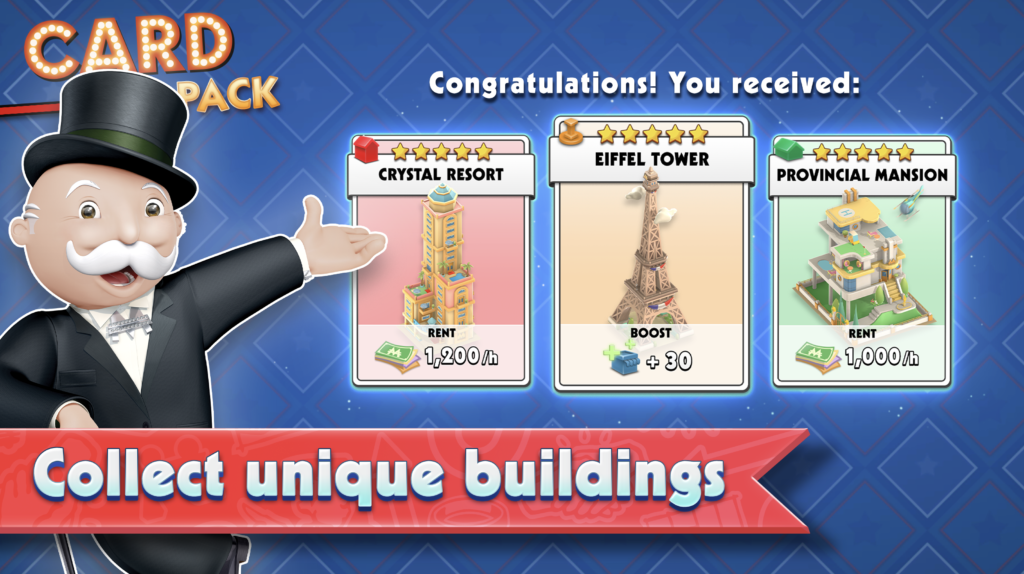 Through the card packs that you can avail from time-to-time, there are huge possibilities to receive buildings such as mansions, bungalows, resorts, and towers. These kind of upgrades give a boost in the rent/hour, population, and the overall growth of the game.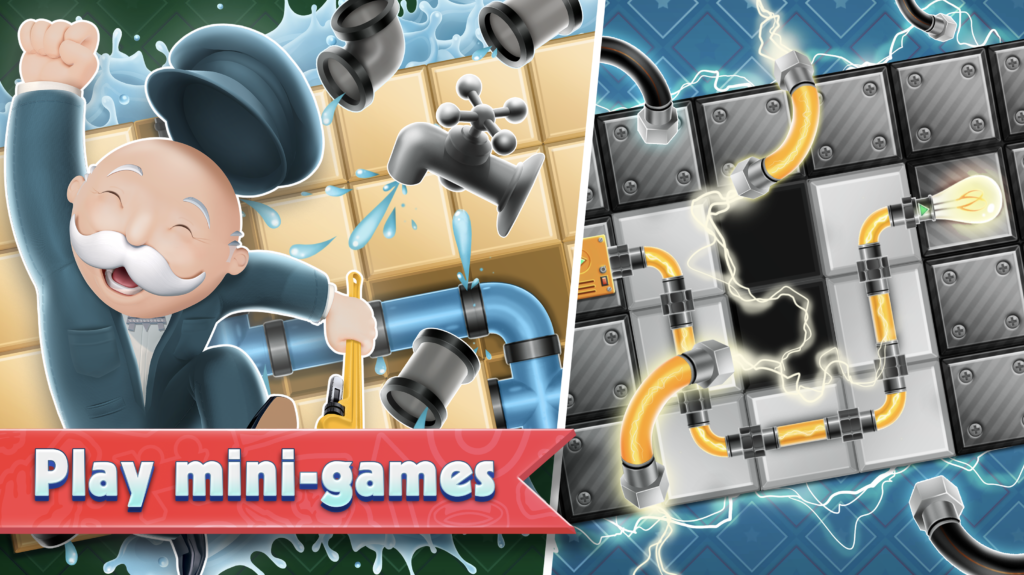 Wait! There is more to Monopoly Tycoon on Android. It does not end here. As you progress with the game, you will first come across Water Works Overflow where you have to solve the water problem in the city.
Once you succeed in solving the problem, you will be rewarded with Monopoly Money, as well as a card either to buy a hotel, business, or to upgrade an existing residential property.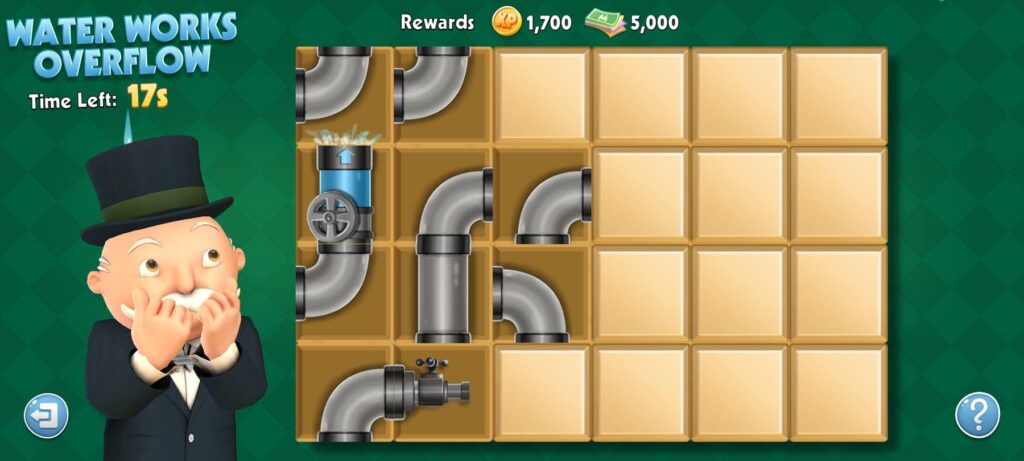 All the mini-games you come across in Monopoly Tycoon on Android are set by tight timers so you have to finish solving the problem within the timeframe which is usually between 10 seconds to 2 minutes. The same rules apply for "Putting out the Fire" in the house which is an easy mini-game just like the Water Works Overflow.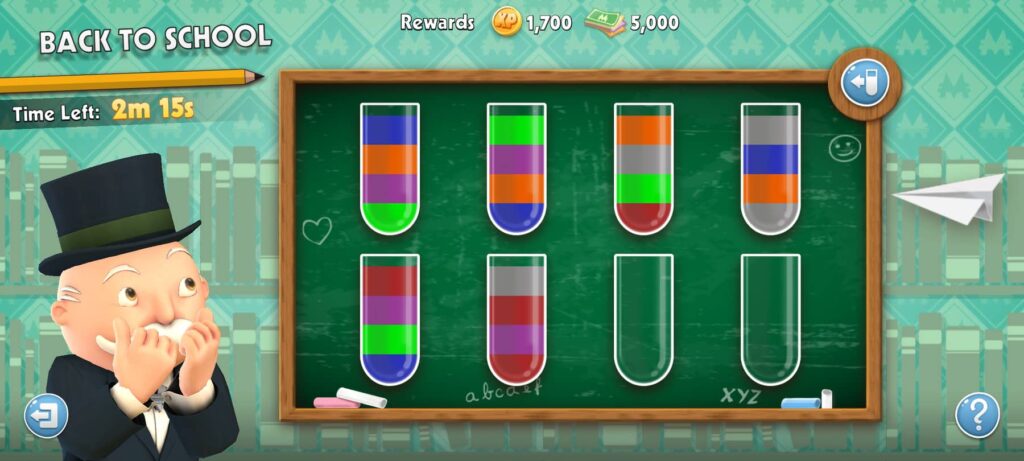 The next mini-game is "Back to School" where you need to fill the glass tubes with the matching colors and make sure that all of them are unified within the time limit.
If you fail, you can try again up till you get it right. Again, once you succeed in solving the problem, you will be rewarded with Monopoly Money, as well as a card either to buy a hotel, business, or to upgrade an existing residential property.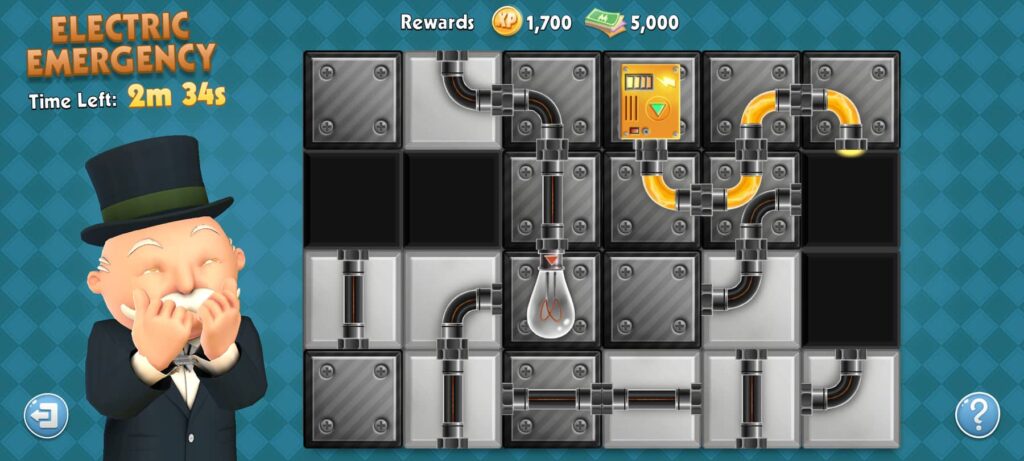 "Electric Emergency" is one of the most difficult mini-game in Monopoly Tycoon on Android because there are a lot of tiles that have to be moved around to actually figure out the electricity flow. Once you succeed in solving the electricity flow problem, you will be rewarded with Monopoly Money, as well as a card either to buy a hotel, business, or to upgrade an existing residential property.
Features/App Possibilities
Multiplayer : Addition of a multiplayer feature where 4 friends can play together could be more fun knowing each other, and betting on weaknesses and strengths. This feature could be added via Facebook, just like how 8 Ball Pool and other multi-player games work.
Gifting Monopoly Money : A feature where one player can help out and share Monopoly Money with friends could definitely help the app to grow with regards to downloads, and eventually increasing the community value.
Trading Owned Property : This feature would be a value add so that friends can actually keep the game going on for days together.
Go to Jail : For the ones who have played the board game, we know the Go to Jail feature that is not liked by all. The Go to Jail feature is actually kind of good when it comes to collecting money and playing safe at times.
Collect Monopoly Money as You Pass : Probably in the next update, players should be able to collect a general amount of Monopoly Money either as time passes, i.e like a day or another time-cycle of sorts.
Share Milestones on Twitter, and Facebook : Users should be able to share their property acquisitions, auction wins, scores, and city journeys on Twitter or Facebook. This would help the app get more visibility on social media platforms.
We would love to hear your thoughts, experiences, and suggestions about this app on Android in the comments below.