News
Introducing the Oraimo FreePods 4: Elevate Your Audio Experience with Advanced ANC Technology
Unleash the power of ANC and seamless connectivity with the Oraimo FreePods 4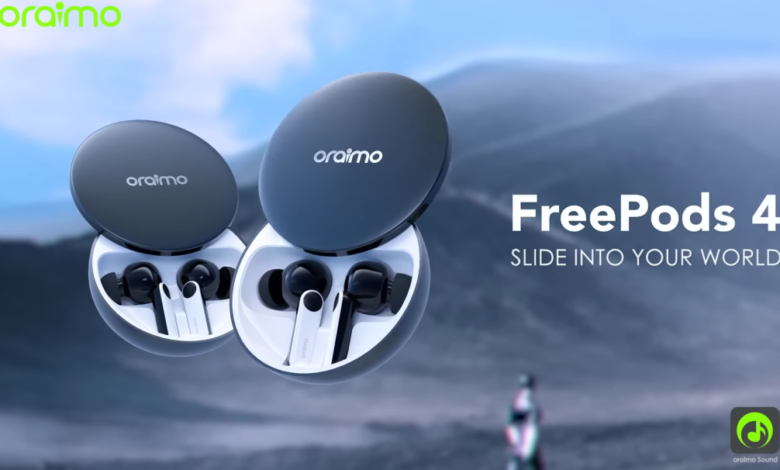 Oraimo, a leading brand in audio innovation, has launched the FreePods 4 wireless earbuds in India, offering a remarkable sound experience coupled with cutting-edge Active Noise Cancellation (ANC) technology.
These sleek earbuds are designed to immerse you in a world of high-quality sound while keeping unwanted background noise at bay.
Equipped with the latest ANC technology, they can reduce ambient noise by up to 30dB, allowing you to enjoy your favorite music or podcasts without any distractions.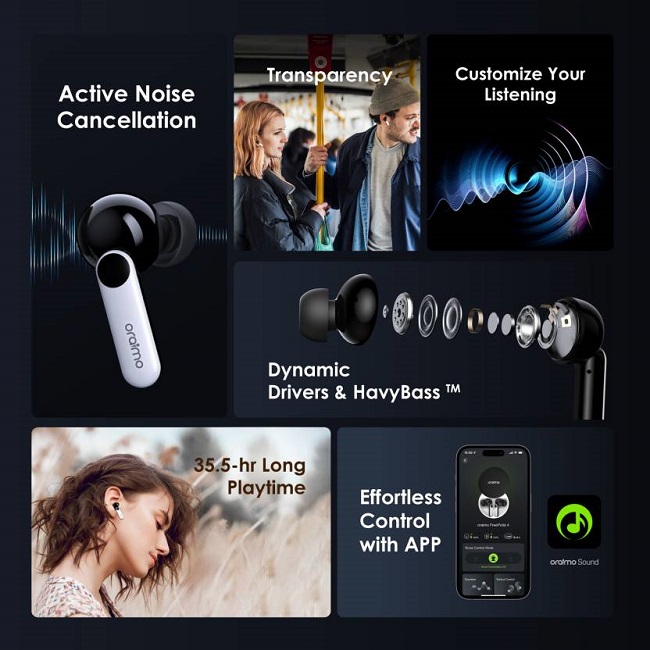 Not only do the FreePods 4 deliver exceptional sound quality, but they also excel in call clarity. With advanced microphone technology and an AI algorithm, these earbuds intelligently suppress external noise during calls, ensuring crystal-clear conversations even in noisy environments.
One of the standout features of the Oraimo FreePods 4 is the Transparency Mode, which lets you stay connected with your surroundings without needing to remove the earbuds. Whether you're commuting, walking in a busy street, or simply want to be aware of what's happening around you, this mode keeps you in touch with the outside world while still enjoying your audio.
For gamers, the FreePods 4 offer a low-latency gaming mode that ensures seamless connectivity and enhances the gaming experience.
With minimal lag, you can enjoy immersive gameplay without any interruptions, giving you a competitive edge in your virtual adventures.
Designed with convenience and security in mind, the FreePods 4 feature a user-friendly slide-to-open design and anti-drop magnets that securely hold the earbuds in place. No more worries about losing or misplacing them during your activities.
Thanks to fast charging capabilities, the FreePods 4 provide an impressive battery life of up to 35.5 hours for continuous music playback. Even if you're running low on battery, a quick 10-minute charge gives you an extra 170 minutes of playtime, ensuring that your entertainment never has to pause for long.
To enhance your listening experience, the Oraimo Sound app offers five EQ modes, allowing you to customize the sound profile according to your preferences.
You can fine-tune the audio output and easily adjust touch controls for effortless music control, call answering, and volume adjustment. The app also comes equipped with a handy Find My Device feature, ensuring that you can locate your misplaced earbuds with ease.
Connecting the FreePods 4 to your devices is a breeze, thanks to Google Fast Pairing compatibility. Simply bring the earbuds close to your device, and they will quickly and seamlessly establish a reliable wireless connection.
The FreePods 4 are designed to withstand splashes and sweat, with an IPX5 rating for water resistance. This makes them ideal companions for workouts, outdoor activities, and even rainy days. Additionally, the ear tips are antibacterial, reducing the risk of infections and ensuring hygiene during extended use.

Available in a sleek Black color, the FreePods 4 come with a two-year warranty for added peace of mind. Their retail price is Rs. 1,999, but during the special introductory period, they will be available at an exclusive price of Rs. 1,599.
Experience the epitome of audio excellence and convenience with the Oraimo FreePods 4. Elevate your sound, embrace the future of wireless audio technology, and enjoy a truly immersive audio journey.