How-To
How to Remove and Block Spam SMS and Ads in Google Messages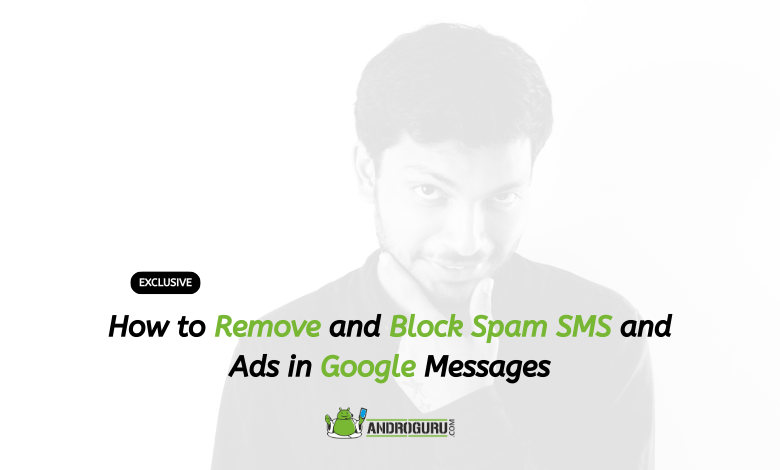 Google Messages has recently faced criticism from Indian users due to the influx of irrelevant advertisements being sent through the app. Many users have taken to social media to express their frustration with the default SMS app on several Android phones.
The problem primarily revolves around the misuse of the Rich Communication Services (RCS) feature, for which Google is not entirely to blame.
RCS is designed to enhance branding and interactivity between businesses and consumers. It allows businesses to send messages through the native Android messaging app, similar to the way brands send messages on WhatsApp.
However, the issue arises when companies abuse this feature to inundate users with unsolicited messages promoting gambling, life insurance, and loans. This misuse of RCS has led to users receiving ads unrelated to the websites they have signed up for, causing annoyance and frustration.
One Twitter user shared their experience of receiving personal loan ads from BankBazaar, even though they did not have a SIM card inserted in their mobile phone. The scale of user complaints regarding this issue is substantial, considering that Google Messages is the default messaging app on most Android devices.
If you are among those who wish to stop receiving such spammy messages and want to learn how to block them from appearing in your Google inbox, here's a step-by-step guide to help you take control of your messaging experience.
What is Google RCS?
Advertising plays a crucial role in the success of any business, and Google generates a significant portion of its revenue through ads. On the other hand, RCS messaging aims to facilitate brands in reaching customers who have signed up or made purchases directly from their websites or apps.
Google Messages is becoming the worst possible Google app.

The amount of ads its sending is crazy, multiple every day. Yes, these are NOT messages, these are ads being pushed by the app to 🇮🇳 Indian users.

It's the default messaging app on most Android phones here. 😑 pic.twitter.com/8EYnIh5cd9

— Ishan Agarwal (@ishanagarwal24) May 16, 2022
According to a report from 9to5Google, brands in the US and other countries have been utilizing messaging apps and SMS texts to advertise new products to their past customers.
While this can be an effective marketing strategy when used responsibly by companies, certain companies such as Kotak Mahindra Bank, Bajaj Finserv, Zomato, Tinder and PolicyBazaar have been misusing the RCS feature by sending spam messages.

If you find yourself receiving unwanted spam messages and want to put a stop to them, there are methods available to block and filter such messages within Google Messages.
By following these steps, you can regain control over your messaging experience and prevent spam messages from cluttering your inbox.
How To Block Spam SMS in Google Messages?
1. Disable the Chat Features in Google Messages
By enabling RCS (Rich Communication Services) in Google Messages, spam messages can be easily blocked by turning off the chat features. Here's a step-by-step guide on how to do it: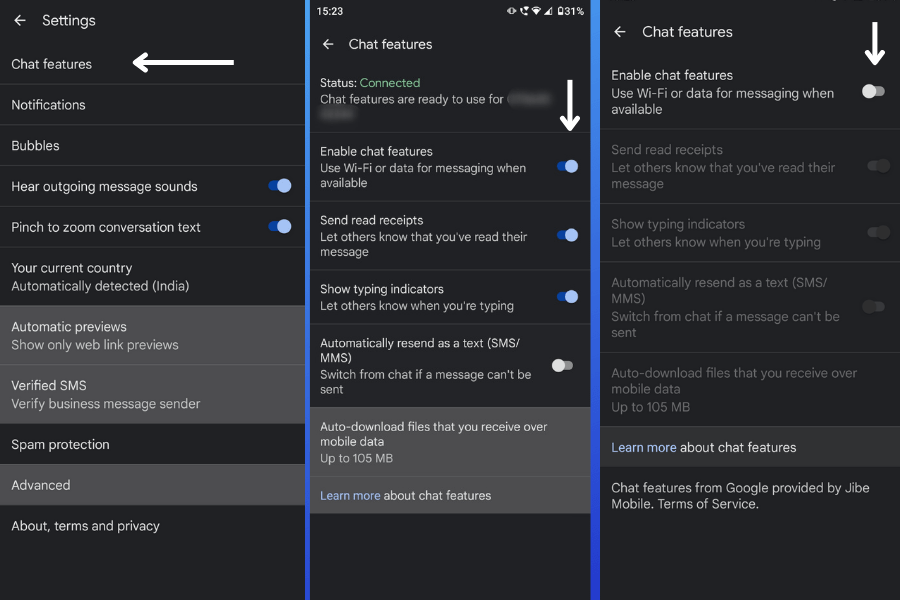 Open the Google Messages app on your smartphone.
Tap on the hamburger menu located in the top-right corner.
Select "Messages and Settings" from the menu.
On the next page, you will see an option labeled "Chat Features."
Tap on "Chat Features" and disable the "Enable chat features" option by toggling the switch off.
Once you have completed these steps, you will now receive regular SMS messages and notifications primarily from your telecom operator. You won't receive any ads or promotions from companies.
However, if you still want to receive specific ads from certain companies and rely on the RCS feature, there is an alternate workaround available.
Remember that by disabling chat features, you may lose some of the advanced messaging functionalities offered by RCS (not be able to block spam SMS), such as read receipts and typing indicators. However, it will help you avoid spam messages and unwanted advertisements.
2. Unsubscribe, Block, and Report Spam Messages
You have the option to individually unsubscribe from messages sent by companies, similar to unsubscribing from email mailing lists. This can be done by locating the Unsubscribe button on the message page itself.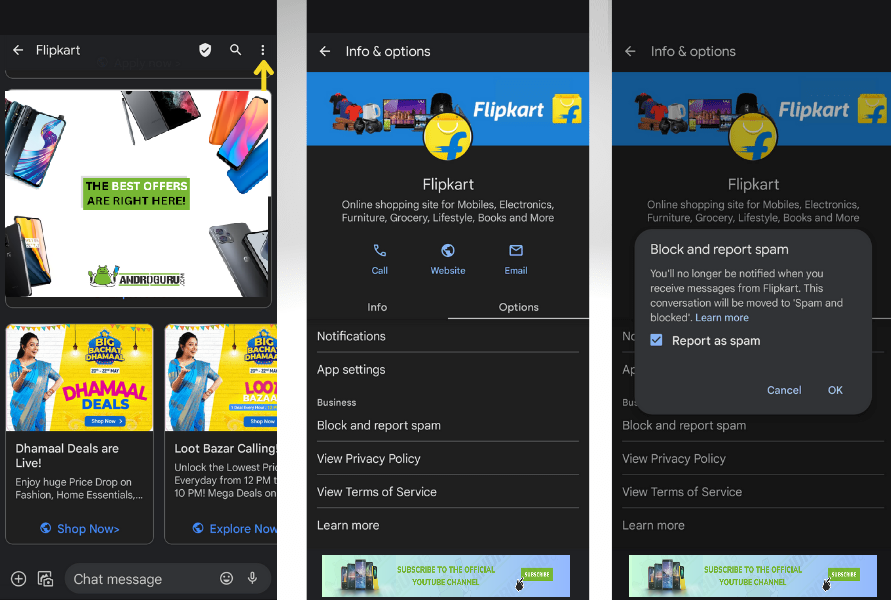 However, please note that this feature will only work if the company provides the option to unsubscribe. Alternatively, you can choose to block the messages (block spam SMS) altogether. By doing so, you can effectively get rid of the annoying ads. Here's a step-by-step guide on how to block and report spam messages:
Tap on the Business profile of the company from which you want to block messages.
Look for the tabs labeled "Info" and "Options" below the profile.
Click on the "Options" tab to proceed.
Within the options, you will find the "Block & Report" option. Tap on it.
Confirm your selection by clicking "Ok" when prompted.
It's important to note that using this method will only prevent specific companies from sending you spammy messages. However, it does not guarantee that you won't receive spam messages in the future.
You may have to repeat the process of unsubscribing, blocking, and reporting each time you encounter spam messages, which can be time-consuming.
If you prefer a more comprehensive solution, disabling Chat features as mentioned earlier would be more effective in avoiding spam messages altogether.
How To Remove Spam SMS from Google Messages?
1. Use Alternative Messaging Apps
If you are looking for alternatives to Google Messages, there are several reliable options available that offer a range of features including message organization, backup and restore functionality, SMS blocking, and customization options. Here are a few noteworthy alternatives:
Pulse SMS: Pulse SMS is a popular messaging app that provides a clean and intuitive interface. It offers features like message scheduling, message backup and restore, dual SIM support, and end-to-end encryption. It is available on the Play Store for Android.
SMS Organizer: Developed by Microsoft, SMS Organizer is an efficient messaging app that automatically organizes your messages into different categories, such as personal, transactions, and promotions. It also offers features like reminders, backup and restore, and a smart spam filter. SMS Organizer is available exclusively for Android devices.
Chomp SMS: Chomp SMS is a highly customizable messaging app with a wide range of features. It allows you to personalize your chat bubbles, themes, fonts, and notification sounds. Additionally, it offers features like scheduled SMS, SMS blocking (block spam SMS), quick reply pop-ups, and MMS support. Chomp SMS is available for Android devices.
These alternatives provide a reliable and feature-rich messaging experience, allowing you to manage your messages effectively and customize the app according to your preferences. You can explore these options and choose the one that best suits your needs.
2. WhatsApp – Perfect Alternative For RCS
WhatsApp is indeed a widely popular messaging app that offers a range of features, including RCS capabilities. While disabling Chat Features in Google Messages can help mitigate the issue of spam messages, it's worth noting that WhatsApp provides a robust platform for brands to connect with consumers without resorting to spamming practices.
The advantage of using WhatsApp is that businesses can leverage its features to communicate with customers in a more personalized and targeted manner.
Through WhatsApp Business, companies can provide product updates, customer support, and even conduct transactions, all within the app's secure and encrypted environment.
In contrast to the reported issues with Google Messages, WhatsApp has been successful in maintaining a balance between facilitating brand-consumer interactions and ensuring a spam-free experience for users.
The platform allows users to control their messaging preferences, including opting out of communication with specific brands if desired.
While Google has yet to address the concerns raised by users, it is advisable to explore alternative methods to tackle spam messages until a solution is implemented.
WhatsApp offers a reliable and popular platform for messaging, allowing users to communicate securely and conveniently.
By embracing WhatsApp and its robust business features, users can enjoy a more streamlined and personalized messaging experience, without being inundated with unwanted promotional messages.