Apps
'talabat AI' – MENA's First ChatGPT-Powered Assistant launched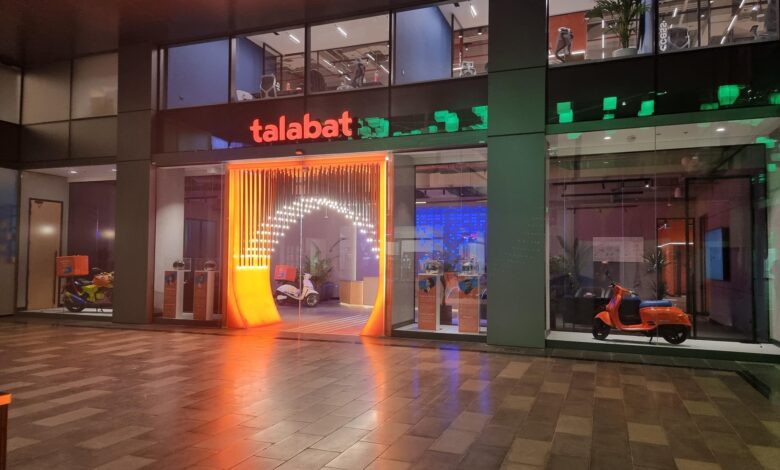 The leading food-tech company in the Middle East has launched 'talabat AI', an innovative ChatGPT-powered grocery shopping assistant that revolutionizes the MENA region's online shopping experience.
With 'talabat AI', users can now enjoy cutting-edge technological advancements that enhance their interaction with talabat Mart, the popular grocery service. By harnessing the power of artificial intelligence, this tool provides a seamless and convenient way for customers to access information related to recipe ingredients, available items on talabat Mart, and nutritional details.
This remarkable addition to the company's platform is a testament to their commitment to continuously elevate customer satisfaction and broaden their offerings through the implementation of new technologies and innovative solutions.
Initially, the Beta version of 'talabat AI' will be exclusively available to talabat pro subscribers in the United Arab Emirates, who will have the privilege of experiencing the English version of the app.
This launch marks the beginning of a progressive rollout, as 'talabat AI' will subsequently expand its availability to talabat pro subscribers in Kuwait and other markets. Throughout the year, the solution will be gradually introduced to all users across the region, ensuring widespread access to its remarkable capabilities.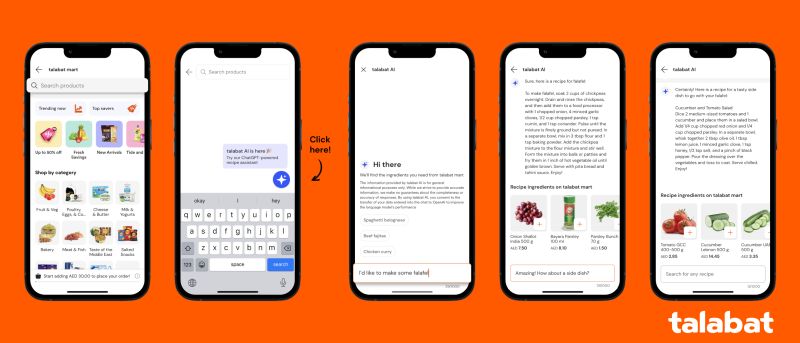 By leveraging the power of ChatGPT, a state-of-the-art language model developed by OpenAI, 'talabat AI' demonstrates the company's dedication to utilizing cutting-edge technologies to deliver an exceptional user experience. The integration of AI into the grocery shopping process enables customers to effortlessly interact with the talabat Mart platform, obtaining crucial information that facilitates their purchasing decisions and streamlines their overall shopping journey.
The core functionality of this AI lies in its ability to process and respond to user inquiries promptly. Through the intuitive interface, customers can engage in natural language conversations, asking questions about various aspects of their grocery shopping needs.
Whether it's inquiring about specific ingredients required for a recipe or checking the availability of certain items on talabat Mart, the AI acts as a knowledgeable and efficient virtual assistant, providing accurate and up-to-date information in real-time.
Additionally, this AI technology offers a unique nutritional information feature, empowering users to make informed choices when selecting items from the company's Mart.
By simply requesting nutritional details for specific products, customers gain access to comprehensive information regarding ingredients, allergens, dietary labels, and other relevant data.
This feature is particularly valuable for individuals with dietary restrictions or those seeking to maintain a healthy lifestyle, as it facilitates a more conscious and personalized grocery shopping experience.
By prioritizing the needs and preferences of their diverse customer base, the company aims to redefine the online grocery shopping landscape and establish itself as the go-to platform for a seamless and personalized experience.
In conclusion, the launch of this exclusive AI represents a remarkable advancement in the realm of grocery shopping, combining the power of artificial intelligence with the convenience of online ordering. With its user-friendly interface, real-time responses, and comprehensive information, 'talabat AI' sets a new standard for customer-centric innovation in the MENA region.
By embracing the power of AI and employing ChatGPT technology, talabat aims to redefine customer experiences, deliver exceptional service, and set new industry standards. With this technology users can look forward to a more efficient, informed, and enjoyable grocery shopping experience, solidifying talabat's position as a pioneer in the digital grocery industry.