Accessories
Samsung introduces Camera Grip and Slim Tripod modular accessories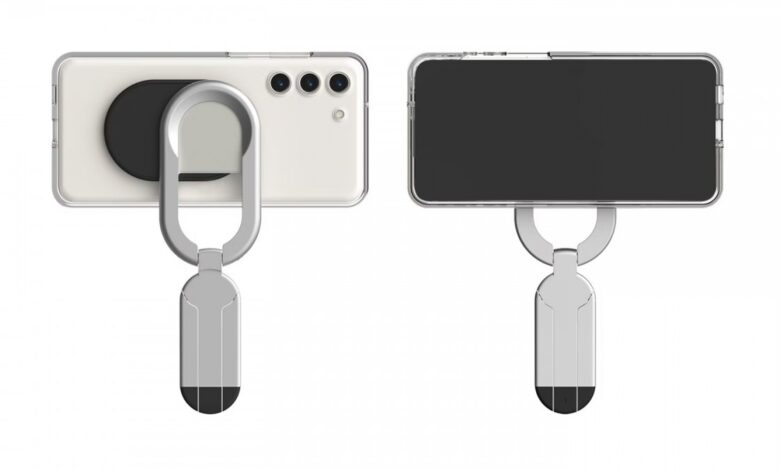 Samsung is offering users of the Galaxy S23 series a pair of accessories that enhance their camera capabilities. The official Samsung Camera Grip and Slim Tripod are modular accessories designed to be compatible with Samsung's Gadget Cover case. The transparent silicone case features a unique attachment point on the back, allowing users to easily swap out different accessories.
The Camera Grip accessory is equipped with a detachable Bluetooth shutter button and a grip area, providing a more traditional photo-snapping experience.
Additionally, the grip attachment includes a concealed tripod within the mount, allowing users to prop up their phone in various positions.
Currently available in white, the Camera Grip accessory is listed on Samsung's UK website, although pricing details have not been provided.
On the other hand, the Slim Tripod stand serves its purpose by allowing users to prop up their Galaxy S23 device using its three metal feet. It can also be used as a vlog grip accessory by flattening and extending the feet.
The Slim Tripod Stand is available in a silver color and is listed for £34 on Samsung UK's official website. It's important to note that the listed price does not include the Samsung Grip case, which is necessary for attaching the new stands. The Grip case is priced at £49/$45.
These accessories from Samsung aim to enhance the photography and videography experience for Galaxy S23 users by providing them with convenient and versatile options for capturing moments. The Camera Grip and Slim Tripod stand offer users the flexibility to take stable shots and explore various angles, ensuring that they make the most out of their device's impressive camera capabilities.