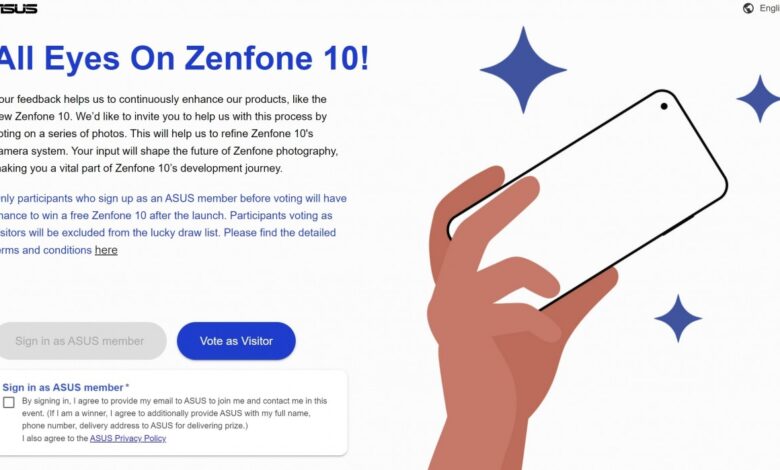 Asus, the Taiwanese brand known for its innovative smartphones, is gearing up for the launch of its highly anticipated flagship device, the Zenfone 10.
While the official launch date is yet to be announced, an interesting development on Asus's official website might have unintentionally unveiled the price of the Zenfone 10.
Blind Testing and a Chance to Win a Free Zenfone 10
Asus has recently set up a dedicated page on its website to conduct blind testing of the Zenfone 10's camera capabilities and gather valuable feedback from participants.
Excitingly, those taking part in this program will have a chance to win a free Zenfone 10 after its official release. However, hidden within the terms and conditions of this promotion is a significant detail—the approximate retail value of the Asus Zenfone 10 is listed at USD 749.
Price Revelation Sparks Curiosity
The accidental revelation of the Zenfone 10's price has sparked curiosity among smartphone enthusiasts. While Asus has not provided specific details about the memory configuration of the devices to be given away, it remains uncertain whether the approximate retail value of $749 applies to the base model or other variants.
Impressive Specs and Features
Although the official specifications are yet to be confirmed, recent leaks and rumors have shed some light on what we can expect from the Zenfone 10. The device was spotted on Geekbench last month, hinting at a powerful Snapdragon 8 Gen 2 SoC, a whopping 16GB of RAM, and the latest Android 13 operating system.
Rumored features include a stunning 6.3-inch 120Hz AMOLED display, generous storage options of up to 256GB, and an impressive 200MP primary camera equipped with optical image stabilization (OIS).
Moreover, the Zenfone 10 is said to boast an IP68 rating for water and dust resistance, house a massive 5,000mAh battery with 67W fast charging capabilities, and come in three attractive color options.
Anticipation Grows as Launch Approaches

With the inadvertent price reveal and the leaked specifications, anticipation is steadily growing for the Android device.
As the launch date draws near, smartphone enthusiasts and Asus fans eagerly await further details and official announcements from the company.

Stay tuned for more updates on the Zenfone 10 in the coming weeks, as Asus prepares to make another significant impact in the highly competitive smartphone market.