Reviews
Smartphones
Realme 11 Pro Review
A mid-range Android powered device with standout design and impressive features.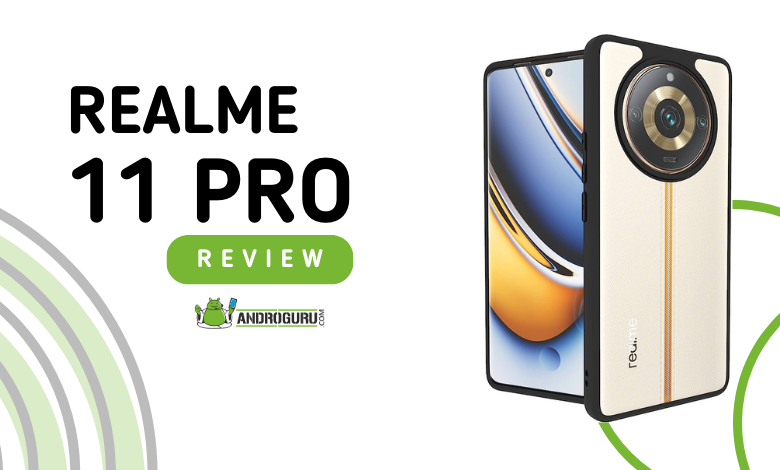 We are excited to bring you a review of the Realme 11 Pro, the latest addition to the popular Realme Number series. This year, Realme has upped its game by collaborating with renowned ex-Gucci designer Matteo Menotto to create standout designs for the phone backs, elevating the overall aesthetic appeal.
Unlike its predecessor, the Realme 10 series, the Realme 11 lineup is set to reach a wider range of international markets. Currently available in India and China, both the Realme 11 Pro and Realme 11 Pro+ (previously reviewed) have been well-received.
The Realme 11 Pro stands out with its unique design featuring an eco-leather back, resembling Lychee Grain Leather, complete with faux 3D stitches and a stylish split in the middle. This premium look sets the Realme 11 Pro apart from other mid-range devices, giving it a touch of luxury.
Introduction, and unboxing
Moving to the front of the phone, you'll find a 6.7-inch AMOLED display with 10-bit color depth, 120Hz refresh rate, and HDR10+ support. This is a significant upgrade from the LCD panels found in the Realme 10 Pro and 9 Pro, offering a more immersive visual experience.
Under the hood, the Realme 11 Pro is powered by the MediaTek Dimensity 7050 5G chipset, which is a rebranded version of the Dimensity 1080. This capable platform delivers a noticeable boost in CPU and GPU performance compared to its predecessors, the Snapdragon 695 5G chip found in the Realme 10 Pro and 9 Pro.
The camera setup on the Realme 11 Pro is quite intriguing, featuring a new 100MP OmniVision sensor. Realme promises excellent photo and video quality from this sensor, along with a 2x lossless zoom capability. As for the selfie shooter, it sports a 16MP sensor, although it remains to be seen if it utilizes Quad-Bayer technology.
Additional notable features of the Realme 11 Pro include stereo speakers, Dolby Atmos support, a powerful 5,000mAh battery, and blazing-fast 67W SuperVOOC charging. It also comes with the latest Realme 4.0 UI and the Android 13 operating system, offering a smooth and user-friendly interface.
Overall, the Realme 11 Pro impresses with its standout design, upgraded display, capable chipset, and promising camera capabilities. With its mid-range pricing, this device delivers a compelling package for users seeking a combination of style and performance.
When comparing the Realme 11 Pro to its sibling, the Realme 11 Pro+, there are five major differences to take note of. Firstly, the primary camera of the Realme 11 Pro uses a 100MP sensor instead of the 200MP sensor found in the Pro+ model.
Additionally, the 11 Pro lacks ultrawide and macro cameras, offering a more streamlined camera setup. The charging speed is also slightly slower at 67W, compared to the Pro+ model's faster charging capabilities. Moreover, the selfie resolution has been halved, and the base model storage is reduced to 128GB from the Pro+'s 256GB.
However, even when considering the Realme 11 Pro on its own, there are a couple of notable omissions. Firstly, the device lacks any form of ingress protection, including the most basic level of water and dust resistance. Additionally, Realme has chosen to retire the microSD slot in this generation, meaning there is no option for expandable storage.
The Realme 11 Pro comes packaged in one of the brand's signature yellow boxes. Inside, you'll find the smartphone itself, accompanied by the 67W SuperVOOC charger for fast charging, and a transparent silicone case to provide some level of protection.
It's worth noting that the Realme 11 Pro arrives with a thin protective film already applied to its curved display glass. However, this film tends to attract smudges easily, leading many users to remove it for a cleaner and more pleasant viewing experience.
Design, build quality, handling
The Realme 11 Pro immediately catches the eye with its distinctive vegan leather design, which closely resembles Lychee Grain Leather. It's a standout feature that sets it apart from many other devices on the market. This unique look was co-developed with renowned ex-Gucci designer Matteo Menotto and is also available on the Realme 11 Pro+ model.

The smartphone boasts a curved design, with both the front and rear panels bending towards the frame. The front is protected by tempered glass, while the frame is made of plastic.
The back panel features a vegan leather surface adorned with 3D stitches and a runway-inspired middle part resembling a zipper. Notably, the large camera island on the back adds to the device's overall aesthetic. It features a black color scheme with a vinyl-like inner circle that matches the back.
Realme offers different color options for the Realme 11 Pro, such as Oasis Green and Sunrise Beige. However, the Astral Black model forgoes the leather design and instead features a sandblasted back without any traces of leather or stitching. This variation caters to users who prefer a more understated look.
It's worth mentioning that the Realme 11 Pro lacks any form of ingress protection, including the basic IP53 rating commonly found on many Xiaomi phones. This means the device is not resistant to water or dust.
Moving to the front of the phone, the Realme 11 Pro showcases an all-screen display. The new AMOLED panel impresses with its slim bezels, sharp and bright visuals, and notable features such as a 120Hz refresh rate, support for 1 billion colors, and HDR10+ certification. At the top center of the display, there is a tiny perforation housing the 16MP selfie camera.
The earpiece is positioned above the screen and also doubles as a speaker. To ensure a balanced and immersive audio experience, there is an additional top-facing outlet for the weaker earpiece speaker.
The Realme 11 Pro incorporates an under-display fingerprint sensor that is fast and reliable. It also supports Quick Launch functionality, allowing users to assign up to five actions or shortcuts that can be accessed by swiping after a successful unlock. This feature provides convenience and enhances the user experience.
On the back of the device, the standout feature is the 100MP primary camera located in the middle of the black camera island. Accompanying it are an LED flash and a 2MP depth sensor. It's important to note that the Realme 11 Pro does not include ultrawide or macro cameras, which are exclusive to the Pro+ variant.
The plastic frame of the phone is polished along its longer sides, while the top and bottom sections have a flat and brushed appearance. The top of the device houses a speaker grille and a microphone, while the bottom features the dual-SIM tray, primary microphone, USB-C port, and another, louder speaker.
There are no buttons or ports on the left side of the device, with the volume and power/lock keys located on the right side.
Despite the lack of grip provided by the curved design and thin glossy frame, the leather back offers a secure and comfortable grip in various scenarios, including browsing, gaming, and camera usage. The Realme 11 Pro feels premium and lightweight for its size, enhancing the overall user experience.
In conclusion, the Realme 11 Pro stands out as a luxurious smartphone with its unique design. It almost resembles a fashion accessory, yet it maintains a tasteful and well-executed aesthetic. The only notable concern is the absence of splash resistance, which should be considered when using the device in potentially wet environments.
Display, battery life, charging speed, and speakers
The Realme 11 Pro shares the same impressive display as the Realme 11 Pro+. It sports a 6.7-inch OLED panel with an extended 1080p resolution, resulting in a pixel density of 394ppi. The display offers several noteworthy features, including a 10-bit color depth, 120Hz refresh rate, 360Hz touch response, and HDR10+ support.
The 10-bit color depth allows the display to showcase over a billion colors, eliminating color banding and delivering a more accurate and vibrant color representation.
The 120Hz refresh rate ensures a smooth user experience, with the UI and compatible apps rendered at 90fps and 120fps, providing seamless scrolling and animations.
The 360Hz touch response guarantees immediate reactions to touch inputs, which is particularly beneficial for gamers who require quick and precise controls.
Additionally, the Realme 11 Pro incorporates 2160Hz high-frequency PWM dimming, reducing eye strain and minimizing picture ghosting when using the screen at lower brightness levels.
During display testing, the Realme 11 Pro performed exceptionally well. It achieved a maximum brightness of 790 nits in Auto mode and 474 nits when manually adjusted using the brightness slider. Realme claims a maximum peak brightness of 950 nits, which the panel can reach within a small white patch. The minimum brightness measured at point white was 1.8 nit.
In terms of color accuracy, the Realme 11 Pro offers four color modes in the settings: Vivid (default), Natural, Pro Cinematic, and Pro Brilliant. The Vivid mode provides good accuracy towards P3 targets, with slight exceptions in bluish whites and grays.
The Cinematic Pro and Natural modes demonstrate outstanding accuracy to the DCI-P3 and sRGB color spaces, respectively. Each mode also includes a color temperature slider for further customization.
The Realme 11 Pro provides three refresh rate modes: Auto Select, High, and Standard. The Auto Select and High modes utilize a maximum 120Hz refresh rate for the user interface and supported apps, while static images, video playback (excluding video UI), and incompatible apps like Google Maps and the Camera app are displayed at 60Hz.
The Auto mode is more battery-saving, analyzing the active app and determining whether it warrants using 120Hz. Notably, some apps, such as Netflix and certain office apps, are limited to 60Hz. The lock screen operates at 90Hz. The Standard option maintains a consistent 60Hz refresh rate for all apps.
With HDR10+ certification and Widevine L1 DRM support, the Realme 11 Pro offers an enhanced HDR experience. While YouTube recognizes the device as HDR10-capable, Netflix only serves 1080p SD content and does not detect HDR support.
The Realme 11 Pro includes two visual enhancements in its Display options menu: Video Color Boost and Bright HDR Video Mode. Video Color Boost widens the color gamut in SDR content but consumes more battery power. It is available in a limited selection of apps. The Bright HDR Video Mode increases brightness during HDR video playback, enhancing the overall HDR experience while also increasing power consumption.
Powered by a 5,000mAh battery, the Realme 11 Pro delivers impressive battery life. Realme's official test numbers indicate over 29 hours of call time, over 18 hours of video playback, over 400 hours of standby time, and 8 hours of gaming. Independent tests closely aligned with these official figures, with the Realme 11 Pro achieving a total endurance rating of 112 hours. The device excelled across various tests, offering over 33 hours of talking, over 18 hours of web browsing, and over 17 hours of video playback.
In summary, the Realme 11 Pro showcases a remarkable display with its high refresh rate, touch response, and color accuracy. Its battery life is impressive, providing extended usage across various activities. These features make the Realme 11 Pro a compelling choice for users seeking a visually immersive experience and long-lasting battery performance.
The Realme 11 Pro supports 67W SuperVOOC fast wired charging, and it comes bundled with a 67W power adapter and a 10A-rated USB cable. Realme claims that the phone can achieve a full charge in 47 minutes and reach 50% charge in just 18 minutes.
During testing, it was confirmed that the Realme 11 Pro delivers on these charging speeds. It reached 42% charge in 15 minutes and 50% charge in 18 minutes. A full charge was achieved in exactly 47 minutes. Additionally, the device features Wise Charging, a feature that learns your charging habits and optimizes overnight charging by charging the battery up to 80% first and then completing the remaining 20% closer to the time you wake up.
In terms of audio, the Realme 11 Pro features stereo speakers, an upgrade over the Realme 9 Pro's single speaker. The top speaker in the hybrid setup has both front-facing and top-facing sound outlets, while the bottom speaker appears to be louder with a single grille. The speakers offer balanced sound quality, with good representation of vocals, clear high frequencies, and noticeable bass. The sound balance is also enhanced by the positioning and multiple outlets, providing an immersive experience when watching movies, playing games, or listening to music.
In loudness testing, the Realme 11 Pro received a Good rating, indicating satisfactory volume levels. Overall, the speaker performance of the Realme 11 Pro is commendable, providing a balanced sound output and a pleasant listening experience.
Software, performance, and benchmarks
The Realme 11 Pro comes with Android 13 out of the box, customized with Realme's latest UI version 4.0. While the UI is based on Android 13, it incorporates Realme's own customizations and features. These include battery optimizations, media controls, color customizations, privacy updates, and more.
Realme promises two generations of OS updates and three years of security updates for the Realme 11 Pro and Pro+.
One of the notable visual features of Realme UI 4.0 is the Aquamorphic theme, which provides a modern and clean aesthetic. Realme UI 4.0 also includes Android 13's media controls, smoother animations, dynamic widgets, and refined notification and control centers.
The Realme 11 Pro supports fingerprint unlock, and the optical under-display scanner is fast and efficient. Face unlock is also available for even quicker unlocking, although it may not be as secure as fingerprint unlock.
The device features an always-on display (AOD) that can show various information such as clock, date, notification icons, and battery status. Realme UI 4.0 expands the AOD options with different themes, clocks, and custom patterns. It even includes support for Spotify media controls within the AOD. Users can customize the AOD to be power-saving, scheduled, or always-on.
Realme UI 4.0 offers extensive personalization options. Users can customize wallpapers (live and static), icon packs, quick toggles icon shapes, fonts, colors, AOD themes, and fingerprint scanner animations. There is also an Edge Lighting feature that can be enabled or disabled independently of the AOD.
The launcher in Realme UI 4.0 provides clean and simple homescreens, a streamlined notification/toggles area, and an easy-to-use task switcher. An app drawer is available and can be enabled or disabled based on user preference. The launcher now supports Large Folders, allowing users to resize folders as needed. However, the Dynamic Widgets feature mentioned does not appear to be available on the Realme 11 Pro.
Dark Mode is present in Realme UI 4.0 but no longer offers three different dark styles. Instead, it uses a combination of the previous three gray hues.
Realme UI 4.0 includes a range of tools in the settings menu, providing users with control over various aspects of the Android operating system. However, the AI algorithms and machine learning of Realme optimize the user experience by default, so users can enjoy a hassle-free experience without needing to manually adjust settings.
The Realme 11 Pro supports flexible windows, allowing users to resize apps on the go. Files can be exchanged between full-screen and flexible apps via drag and drop. The Task Switcher and Sidebar provide options for using flexible windows and split-screen functionality. The Smart Sidebar now includes background stream, allowing apps like YouTube to continue playing sound even when the screen is locked.
Another feature of Realme UI 4.0 is RAM Expansion, which allows users to virtually expand their smartphone's RAM using the device's internal storage. By default, 4GB of virtual RAM is enabled, but users can add up to 8GB of virtual RAM.
Within the Realme Lab section of the UI, users will find features like Dual-mode audio (using both wired and wireless headphones simultaneously), Sleep Capsule (a night mode for restricting specific apps), and Heart Rate Measurement (using the optical fingerprint scanner).
Multimedia apps such as Photos, Music, and Videos are provided by Realme, and there is a revamped File Manager and Phone Manager app. Realme UI 4.0 also includes an auto-pixelate feature that can blur or pixelate sensitive information in screenshots taken in apps like WhatsApp or Messenger before sharing them.
In terms of performance, the Realme 11 Pro is powered by the Dimensity 7050 5G chipset, which is a rebranded version of the Dimensity 1080 SoC found in the Realme 10 Pro+. It features an octa-core processor with two Cortex-A78 performance cores clocked at 2.6GHz and six Cortex-A55 cores clocked at 2.0GHz. The GPU is Mali-G68 MC4, and the chipset is built on the 6nm process.
The Realme 11 Pro is available in various RAM and storage configurations, with options ranging from 8GB to 12GB of RAM and 128GB to 512GB of storage. The phone also supports Dynamic RAM Expansion, allowing users to add up to 8GB of virtual RAM using the device's internal storage.
In benchmark tests, the Dimensity 7050 chipset of the Realme 11 Pro delivers capable performance, handling both single-core and multi-core tasks well. However, it may not be as fast as the Snapdragon 778 or Exynos 1380 processors found in some other devices. The Realme 11 Pro offers a smooth experience across the Android OS and most games. It does not support HFR (High Frame Rate), but it provides satisfactory performance for its class.
Stability tests revealed that the Realme 11 Pro performs well, scoring 81% on the CPU Throttle test and 98.5% on the GPU stability test. This indicates good stability and reliability during extended use.
Overall, the Realme 11 Pro is a capable mid-range device that offers smooth performance for everyday tasks and most modern games. While it may not be the fastest in its class, it provides a satisfying user experience and is unlikely to disappoint.
Camera, photo, and video quality
The Realme 11 Pro comes with a single usable camera on its back, as the second one is a depth sensor. The primary camera features a 100MP OmniVision sensor with OIS (Optical Image Stabilization) and supports 4K video capturing.
In terms of specifications, the primary camera uses a 100MP OmniVision 1/1.8″ sensor with 0.612µm pixels and an f/1.8 26mm lens. It supports PDAF (Phase Detection Autofocus) and SuperOIS (Super Optical Image Stabilization). The camera also offers 2x lossless zoom in photos and features Auto Zoom, which automatically zooms and crops on a subject while keeping it at the center of the frame. The improved stabilization enables handheld Starry Sky mode.
The secondary camera on the back is a 2MP depth sensor, which is used for capturing portrait photos with adequate subject separation and blur.
For selfies, the Realme 11 Pro has a 16MP front camera that uses a Sony IMX 471 1/3″ Quad-Bayer sensor with 1.0µm pixels and an f/2.45 lens. The focus is fixed.
The camera app on the Realme 11 Pro is the familiar Oppo/Realme one, with most of the modes accessible from the main interface. The Photo mode offers AI Scene Enhancement, Auto HDR, and two zoom shortcuts (1x and 2x). There is also a Pro mode available for manual adjustments, including exposure, white balance, manual focus, and exposure compensation. RAW format is supported.
The camera performance in daylight conditions is solid. The 12MP photos captured with the main camera's default Photo mode offer high detail, low noise, great contrast, and adequate dynamic range. The colors tend to be over-saturated, and the images are heavily over-sharpened, which can make them look artificial.
The 2x zoomed photos maintain good detail, low noise, punchy colors, and good contrast and dynamic range. However, the over-sharpening is more noticeable in these samples.
The 100MP high-resolution photos appear upscaled from the 25MP output, but they retain natural colors and are not heavily processed. When downsized to 25MP or 12MP, the photos become flagship-grade.
The portrait photos captured with the depth sensor produce adequate subject separation, good blur, and detailed results.
Selfies taken with the 16MP front camera are decent, with passable detail, good exposure, wide dynamic range, and low noise. The colors remain punchy. Auto HDR can improve the dynamic range but results in softer photos.
In low-light conditions, the Auto Nightscape mode is available for the main camera at 1x zoom. The photos captured with Auto Nightscape are bright, well-exposed, and offer a wide dynamic range and pleasing color saturation. However, the detail is average, and noise can be visible.
Overall, the Realme 11 Pro's camera performance in different scenarios is solid, offering good detail, low noise, and pleasing colors. However, some images can appear over-sharpened and artificial, and the low-light performance could be improved.
Verdict
The Realme 11 Pro is a highly regarded smartphone known for its unique design and flagship-level specifications. It features a curved OLED display with a 120Hz refresh rate and HDR10+ support, a 100MP camera, 67W fast charging, and Dolby Atmos speakers, among other impressive features. The phone has been launched in China and India, and it is expected to be released in Europe soon.
The Realme 11 Pro starts at INR 24,000 (€270) for the 8/128GB model, which is an attractive price point. However, there is another variant called the Realme 11 Pro+ that is priced slightly higher at INR 28,000 (€310).
For this small price difference, you get significant upgrades such as a superior 200MP primary camera for both photos and videos, better ultrawide and macro cameras, improved selfie camera, faster 100W charging, and 256GB base storage.
Considering these enhancements, it is difficult to justify choosing the Realme 11 Pro over the Realme 11 Pro+ at the current pricing.
In comparison to other phones in the same price range, the Redmi Note 12 Pro offers a better Dolby Vision display, a splash-resistant glass design, and a more versatile rear camera with better photo and video quality.
The Poco X5 Pro, priced similarly to the Realme 11 Pro, features a better Dolby Vision OLED display, faster hardware, and a splash-resistant design, although it may not be as visually appealing. Another option to consider is the Samsung Galaxy A34, which is about 20% more expensive than the Realme 11 Pro.
It offers a fully waterproof design, a 6.6-inch 120Hz AMOLED display, similar hardware specifications, a better selfie camera with 4K video capabilities, an additional 8MP ultrawide camera, and a 5MP macro camera. However, the photo quality may not be as good as that of the Realme 11 Pro.
In summary, the Realme 11 Pro is an excellent smartphone with an attractive design, impressive display, fast performance, and a solid main camera. It excels in display and battery tests, as well as in terms of speakers and performance.
However, it does have some shortcomings, such as poor video stabilization in 4K and over-processed photos in certain situations. Despite these drawbacks, the Realme 11 Pro is still a highly recommended smartphone that offers a standout design and overall great performance.
For more tech-savvy users, it is advisable to consider investing a little extra for the Realme 11 Pro+ model, as it provides significant upgrades in terms of the main camera, ultrawide camera, storage capacity, and charging speed.